The Central Bank Nigeria Governor, Godwin Emefiele, has reportedly admitted that the apex bank doesn't have the capacity to print adequate new naira notes to supply Nigerians.
Emefiele stated this while briefing the emergency meeting of the National Council of State on Friday.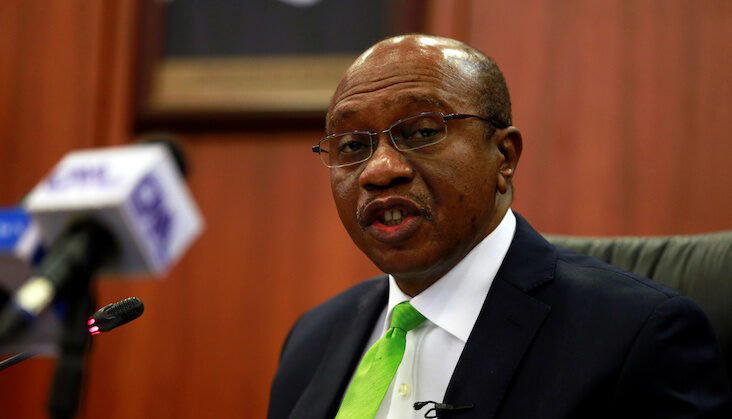 Emefiele reportedly blamed failure to inject enough new naira notes into the banking system on the constraints suffered by The Mint.
Online outlet, PREMIUM TIMES quoted the CBN governor to have made the disclosure when he was briefing the emergency National Council of State meeting in Abuja on Friday, February 10, 2023.
Recall that President Muhammadu Buhari had convened the meeting, seven days after he promised Nigerians that he would resolve the crisis created by the shortage of the redesigned currency in circulation.
Nigerians have been having a hard time in their bid to withdraw money from Automated Teller Machines (ATMs) as banks complained of scarcity of the new naira notes.
The situation has brought untold hardship on the citizens and sparked pockets of protest in some cities across the country.
While briefing the council on Friday, Emefiele revealed that the Nigerian Security Printing and Minting Plc (The Mint) suffered capacity constraints, resulting in the failure to print enough new naira notes to replace the old N200, N500 and 1,000 notes.
"The Mint has run out of papers to print N500 and 1,000 notes. They have placed orders with a German firm and De La Rue of the UK (for papers) but they have been placed on a long waiting list, so their orders cannot be met now.
"The Mint had received CBN's request to print 70million copies of the new notes, totalling N126billion to be pumped into circulation by today (yesterday), The Mint doesn't have the capacity," PREMIUM TIMES quoted the CBN governor as saying.
There has been a flurry of suits at the Supreme Court by some state governors, challenging the apex bank's policy over the hardship the policy has brought on the people.
The apex court had issued an order asking the CBN and the federal government not to go ahead with the implementation of the policy pending the determination of substantive suits before it.