Nollywood actors Kate Henshaw and Chidi Mokeme have stirred reactions with their heartwarming reunion kiss.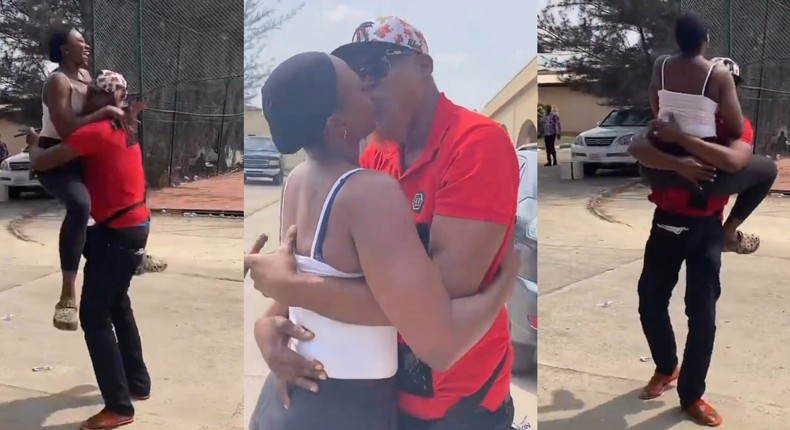 The two, who are close friends, have left netizens' tongues wagging after a warm kiss on a movie set.
The close friends and career colleagues left many puzzled about their friendship after they shared a kiss on a movie set.
Mokeme wrote on his Instagram page, sharing the video, that he and Henshaw have been friends for over 30 years, even before entering Nollywood.
In his words, "So here I was, in my corner, mentally putting finishing touches to this my character on the set of Ruthless. And from the corner of my eyes, who did I see? Our life matron, The Grand Commander of the Fit Fam Vampire Club, the most ageless of them all, the most energetic free spirit to walk this realm. The K8GGR8, The Advok8, OluwaKate, One And Only @k8henshaw And You can see how excited I was.
He added, "No be today. We've known each other, and been friends and colleagues since our Modelling days over 30years ago. Way before Nollywood as we know it. And this is what happens when we jam together on the same set to make magic. Both of us are cooking some fresh characters that you are guaranteed to love. Stay Tuned."
It appears that Mokeme is back in action in Nollywood following an exceptional performance in Netflix's 'Shanty Town.'
In a sit-down on Channels Television's 'Rubbin Minds' the veteran Nollywood actor said he was diagnosed with Bell's palsy, a rare condition that causes sudden weakness in the muscles on one side of the face, which forced him to take a break from appearing on screen.